Email Newsletter


Are you ready for insane savings this Presidents' Day?!
Right now we have specials on every model and if you don't see something you like, we will tailor a special just for you!
How could Chevrolet possibly improve on a pair as iconic as the Tahoe and Suburban?
Well, they found an innovative way to give them more of the things that have made them the best-selling family of full-size SUVs for the past 44 years – an even more open and spacious cabin offering best-in-class max cargo volume a more comfortable ride, and a commanding presence that's impossible to ignore.
2021 Chevrolet Tahoe

GM has unveiled the 5th generation of the Chevrolet Tahoe! The Tahoe is known as a bestseller that accounts for one in four sales in the full-size SUV segment.
With this being said and 6 different trim levels (LS, LT, Z71, RST, Premiere and High Country) to choose from we can only imagine how much love the new Chevy Tahoe will get.
One thing that's new on the 2021 Tahoe is the addition of a turbo-diesel 3.0-liter inline-six that makes 277 horsepower and 460 lb-ft of torque. The production of the new Tahoe will start this spring with the short-wheelbase V-8–powered models and the longer-wheelbase models to follow shortly after, with diesel production beginning this fall. 
As far as pricing goes, the 2021 Tahoe LS is about $1000 more than the previous model year, which starts at $50,295, and the LT costs $800 more than its predecessor at $55,095. The Premier model, however, is $100 cheaper than the previous model at $63,895.

2021 Chevrolet Suburban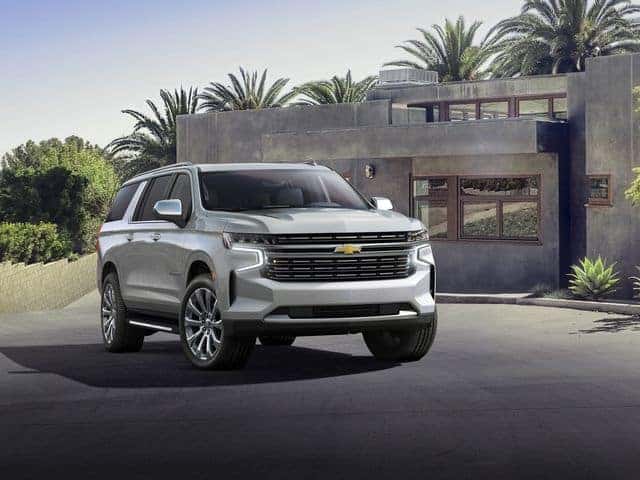 Chevy completely reinvented its oldest nameplate with the all-new 2021 Suburban—and it's bigger and better than ever. It shares a lot with the redesigned Chevy Tahoe, like offering 6 different trim levels, however, its extra length and newly adopted independent rear suspension bring more cargo and third-row space. Those traits make this the biggest SUV to wear a bowtie.
The Suburban is not only longer than before but it's outfitted with more technology than ever. This includes first-time equipment such as an air suspension and a downsized Duramax diesel engine.
Although Chevy hasn't announced official pricing for the 2021 Suburban, we think its carry-over and new trim levels will cost slightly more than corresponding versions from the previous generation.