Take a look at the 2015 Chevy Colorado!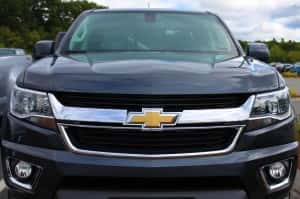 The new Chevy Colorado is the latest small truck on the market that offers all of the updated specs and features of a large truck. In 2002 the original model of the Colorado had been introduced and was on the market until 2012. Three years after being taken off the market, the world was reintroduced to an updated model of the original Chevy Colorado in 2015.
Lets take a look at some of what the new model has to offer:
5 Year or 100k miles of powertrain
Available in a 4 cylinder or V6 engine
High-end technology including wifi and 8 inch touch screen
Between 200 to 305 horsepower
Up to 20 city MPG and 27 highway MPG
Crew/Extended cab
2.5L engine in the 4 cylinder model
3.6L engine in the V6 model
Intrigued? Come check out the 2015 Chevy Colorado in person at our Braintree, MA location where there are still a few models in stock!