Chevrolet Brake Services near Boston MA
Brake Services for Chevrolet Vehicles
It is safe to say that the parts we use have undergone extensive research to make them work for your vehicle. Everything from the cooling design to the thickness and cast iron specifications was studied, tested, and molded to work at its peak performance in your ca
A well-maintained braking system is essential for a safe and comfortable ride. Brake pads, rotors, and calipers will need to be replaced as part of regular maintenance. At Quirk Chevrolet, we will provide you with equipment that was specifically designed for your vehicle.
We use the equipment built by ACDelco, an automotive parts company owned and operated by General Motors. Aftermarket parts may look similar, but they can be made with different metals that wear quicker and can warp. ACDelco braking equipment was designed to work with your vehicle to cool down quickly and provide you with long lasting, smooth stopping power.
How do I know if I've received a reputable service job?
Sometimes, searching for the "right" service center can be a tough decision. No matter where you go it is important to make sure the technicians have years of experience, accreditation, and qualifications. Also ensuring the shop provides written warranty/receipt when repairs are performed is important. Quirk Service Centers are backed by your vehicle's manufacturer and have years and years of professional auto repair experience. Don't forget to consider us for your next brake checkup.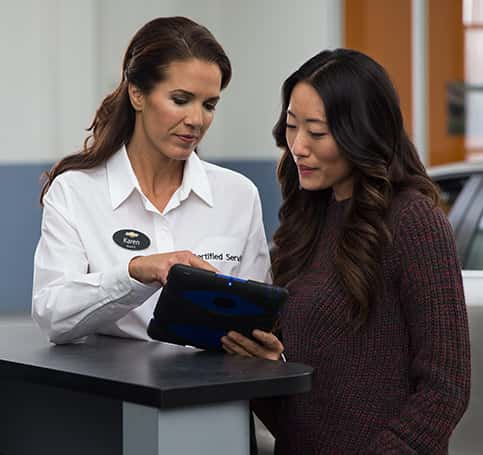 How do I know if I need Brake Service?
Two ways to determine when Brake Services are needed are distinctive changes in your vehicle's performance or a diagnosis from your local technician or mechanic. Some common indicators are…
Shaky steering wheel
Flashing brake warning light
Grinding or squealing noises
Increased stopping distance
Components of your Vehicle's Brake System
There are many different parts of your vehicle's brake system that work together to ensure your vehicle slows down and stops appropriately. The brake system consists of…
Brake Pads
Brake Caliper
Rotor
Brake Fluid
Brake Pads are contained in the Brake Caliper which is hydraulically clamped down onto the Rotor causing friction to slow/stop the vehicle. The Brake Fluid is used as hydraulic fluid to transfer force into pressure, and to amplify braking force.