Chevy Service Center in MA Helps Drivers Prep for Winter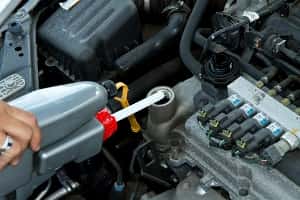 Properly maintaining your vehicle is important no matter what page your calendar is turned to. The winter can be particularly rough in New England, though, and the frigid temperatures definitely call attention to the need for proper car care.
Here at our Chevy service center in MA, we recognize just how important it is to make sure your car is running right so that you can meet the winter head on. One of the most essential services for your vehicle is an oil and filter change, and thatâ??s never more true than as the weather turns colder.
Oil is essential for your car to run right, as it flows through your engineâ??s myriad moving parts. It not only ensures proper lubrication, but coats and protects your engineâ??s components. It even cools them down; cooling is essential even in the winter, considering your engine likely runs at upwards of 200 degrees Fahrenheit.
Fresh Oil Helps Drivers Slide through the Winter Months
Of course, the oil in your car can only do its job properly when itâ??s clean. Dirty oil not only flows less effectively than clean oil, but can also carry bits of dirt or even metal shavings that can take a serious toll on your engineâ??s parts.
Changing your oil and filter regularly can help to ensure that this vital fluid stays clean and flows freely, even when the weather turns cold. If youâ??re familiar with the phrase â??like molasses in wintertime,â? just trust us: you donâ??t want it used to describe your oil.
Our expert technicians can not only drain and replace your old oil and install a fresh filter, but can also ensure that your car is filled with the properly weighted oil. That translates to the correct viscosity for your car, which helps it to run more smoothly in any weather.
For more information on oil and filter changes or the other services available at our Chevy dealership in MA, be sure to call us directly at (888) 570-1961 or to drop in and see one of our expert technicians today.


Source: New feed