Chevrolet Fans near Boston Find Compact Safety in the 2014 Sonic
When it comes to city driving, bigger isnâ??t better. Choosing a subcompact model can be invaluable for navigating tight roadways and barely-big-enough-to-fit-your-car parking spots. Finding a model that works with narrow cobblestone alleys and tight spots, though, doesnâ??t have to mean sacrificing great safety features.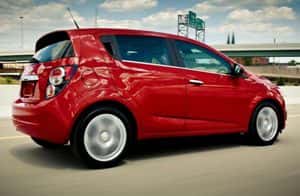 At our Chevrolet dealership near Boston, weâ??re proud to offer vehicles from an automaker that values its customersâ?? safety and peace of mind. â??Customer safety is our top priority,â? managing director of safety, regulations, and product investigations Dongseok Kim says. He added that new safety features can help drivers feel confident about a subcompact like the 2014 Chevy Sonic.
At Quirk Chevrolet, we couldnâ??t agree more. The 2014 Sonic offers a number of incredible new safety features, and weâ??ve outlined a few of our favorites below!
Rear-Vision Camera
With so much technology present in todayâ??s vehicles, this one seems like an easy choice. The 2014 Chevrolet Sonic features a seven-inch screen for the MyLink Radio system, so itâ??s only natural to make use of it for added safety, as well.
When the 2014 Sonic is shifted into reverse, the screen automatically presents a view of whatâ??s behind the vehicle. This improved view of stationary objects behind the 2014 Sonic can help with accident avoidance as well as with backing into awkward parking spots.
Forward Collision Alert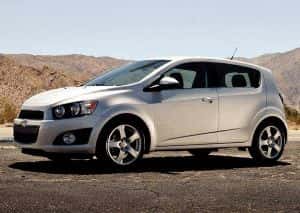 The 2014 Chevrolet Sonic also brings Boston drivers the added safety of the Forward Collision Alert system. When youâ??re approaching a vehicle ahead of you too quickly, the system alerts you. By keeping your focus on the road ahead, this system helps to ensure that drivers brake properly when necessary.
Lane Departure Warning
Another way in which the 2014 Chevrolet Sonic can help drivers to stay aware of their surroundings is the Lane Departure Warning system. This system alerts drivers in a way similar to that of the Forward Collision Alert system, but instead lets drivers know when they are starting to drift out of the marked lanes on a roadway. This can help to drastically reduce the chances of a side impact with a guardrail or another vehicle.
Combined with the 2014 Sonicâ??s 10 standard air bags â?? more than any other car in its class â?? these features can help give drivers the peace of mind that theyâ??re so eager to find in a subcompact model. For more information on the 2014 Chevrolet Sonic and our current inventory, be sure to call us directly at (888) 715-4124 or to visit us online today!


Source: New feed